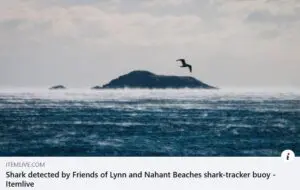 SHARK DETECTED BY FRIENDS OF LYNN AND NAHANT BEACHES SHARK-TRACKER BUOY
Throughout the last 10 years, the Atlantic White Shark Conservancy has identified around 600 sharks off the coast of Cape Cod. Now, the sharks are swimming north and just recently, one was detected by an AWSC shark-detection buoy near Marblehead.
According to TJ Cullinane of Friends of Lynn and Nahant Beaches, which is sponsoring that buoy for the summer, one of the reasons the sharks are in the area is due to seals.
In Cape Cod, the gray seal population increased, which led to an increase of sharks. But, the smaller sharks are being pushed out of that area and moving north, Cullinane said.
"We're talking 8- to 9-foot sharks that are about 15 years old, that really aren't quite capable of taking on a seal, sometimes they still try but for the most part, they're fish eaters and there's a lot of fish in our area for them to eat on," Cullinane said.
Sharks swimming near Lynn, Nahant, Swampscott, and Marblehead aren't currently putting humans in danger, he said. There is also now a growing seal population in the North Shore, he said.
"Recognizing that, the [AWSC] started placing buoys up on the North Shore, and they offer sponsorship, which kind of helps them maintain the buoy," Cullinane said.
The buoy that Friends of Lynn and Nahant Beaches are sponsoring is about a mile from Marblehead, he said. The buoys are connected to the Sharktivity app from AWSC, which tracks sharks that they have tagged.
Through the app, users can see each shark's activity from the past year, month, week, and two days.
Friends of Lynn and Nahant Beaches want to take what it learns from its sponsored buoy and bring it to schools in the area, Cullinane said. They are working with Lynn Public Schools Assistant Director of Science Lia Stelljes and Sierra Muñoz, the outreach coordinator at the Northeastern University Marine Science Center in Nahant, to make this happen, he said.
"Is there a way that we can leverage this technology and put it in the curriculum and get kids excited about marine science?" Cullinane said. "We're a coastal town, we have cool creatures living in our water. Let's leverage these assets to promote science within the school system."
Muñoz said the center has collaborated with Lynn Public Schools and Johnson School in Nahant to teach students about what the center is researching and discovering.
When Friends of Lynn and Nahant Beaches reached out about this potential collaboration, she said she was excited.
"It sounded like a really cool opportunity to incorporate basically a local example for students of collecting environmental data, collecting and incorporating citizen data," Muñoz said.
According to Muñoz, another reason there are more sharks swimming further up the coast may be the warming ocean waters.
"We are seeing some pretty significant high water temperatures and trends, I think it's about as warm as we've seen it," she said. "The way that I explained it to students is that the water temperature helps change where the animals are moving, then those animals are followed by the bigger animals that they want to eat."
Based on current trends, the waters will only continue to warm, she said.
"It's kind of the perfect storm of these sorts of food webs and also the changes in ocean temperatures and climate shifts," Muñoz said.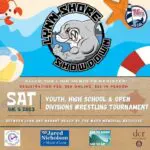 LYNN SHORE SHOWDOWN

It's beach wrestling season! Registration for Lynn Shore Showdown is open. Beach wrestling and fun in the sun for ALL AGES! Click the

link

 to register.📅 August 5, 2023

🤼‍♀️Youth, High School & Open Divisions

📍Between Lynn and Nahant Beach by the Ward Memorial Bath House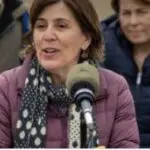 EEA Secretary Rebecca Tepper meets with Kings Beach Steering Committee

On May 30, the Kings Beach Steering Committee met with Secretary Rebecca Tepper of the MA Executive Office of Energy and Environmental Affairs (EEA) to present the UV disinfection solution to the Office and connect the project to funding sources. During the meeting, the Committee urged the Healey-Driscoll administration to prioritize this project as an environmental justice issue.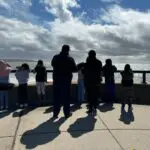 Monday, May 1, Field Trip for the kids at Brickett Elementary School!
Yahoo, what a day! The power and majesty of the North Atlantic was on full display. The wind was howling, the waves were crashing and the gulls were crying. A sunburst through the clouds made the water glisten. We're so happy that Brickett made the decision to visit the outdoor classroom just ten minutes away from the school's front door.
The winds kept the sea birds on shore and we had some great sightings:
Herring Gull
Ring-billed Gull
Great Black-backed Gull
Double-crested Comorant (including a nice flypast in "vee" formation)
American Black Duck
Common Eider
Long-tailed Duck (Note: These are rather elusive birds and today was the first time Jeff and I had seen so many together at one time. Very cool.)
All three species of the sea ducks known as Scoters were present; the Black, White-winged and Surf. This is also unusual.
The Osprey that nests in Lynn Harbor made a few flyovers just before the students arrived.
Present in the park were; European Starlings, House Sparrows, Mourning Doves, Common Grackles and Robins. There were also swallows present, either Bank Swallows or immature Tree Swallows. More to follow.
We hope everyone enjoyed the day as much as we did. Please pass our sincerest thanks to the parents and teachers that volunteered today. If there is any interest in doing this next year, we'd love to come back. In the meantime, stay safe and have a great summer.
All the best,
Jeff Nollet, Tom Cullinane and T.J. Cullinane
Friends of Lynn and Nahant Beach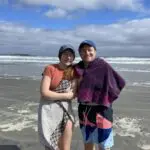 FOLNB Vice President Michael Celona and his daughter Lucia participated in
Save the Harbor / Save the Bay
Shamrock Splash and raised $776. The money Michael and Lucia raised goes towards a grant FOLNB will receive to help support our popular summer concert series! - Thank you Michael & Lucia!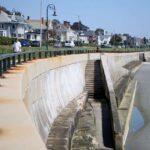 Two years ago, the
Friends of Lynn & Nahant Beach
requested the railings be replaced due to deterioration, but with Covid and extensive supply chain delays the delivery of the handrails didn't arrive until this year.
Thanks to DCR and the Friends advocacy, the work will begin on March 8, 2023. A major improvement to Lynn Beach Reservation.
Beginning Wednesday, March 8, 2023, and continuing through Friday, April 28, 2023 (excluding weekends), the Department of Conservation and Recreation (DCR) will conduct railing replacement work atop the sea wall and handrail replacement work on ramps to the beach along Lynn Shore Drive in the City of Lynn from 7:00AM to 5:00PM.
The roadway will remain open to vehicular traffic, and there will be minimal effects to pedestrian walkways and sidewalks; ramps to the beach may be closed off at some point during construction. Detours will be clearly marked, and DCR urges visitors to use caution in construction areas and around equipment.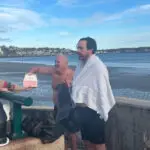 Two members of the Lynn Penguins, Terrence Cullinane and Matt Coulon, did their yearly New Year's Day Plunge into the water at King's Beach to support FOLNB. Thank you Terrance and Lauren Cullinane and Lynn Penguins!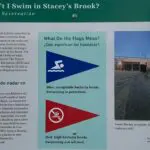 At Kings Beach just before the Lynn/Swampscott line there is a new sign available in both English and Spanish providing information about Stacey's Brook, the flags, and why swimming is not advisable. August 2022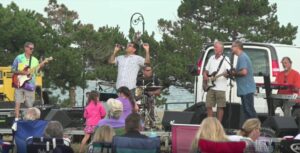 The Red Rock Park Entertainment Series continued on August 11th with White Lightnin'. This was part of a family-friendly concert series happening Thursday nights at Red Rock Park every July & August. Tony Gallo, lead singer, spoke about playing down along the beach and what people can expect coming down. The last concert was held Thursday, August 18th at 6pm with the 12:01 Blues Band. August 2022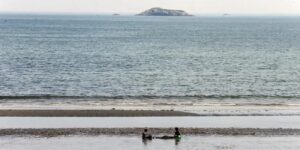 Teaming Up to Clean King's Beach
Lynn Itemlive.com by Paul Halloran
July 19, 2022
See the full article here.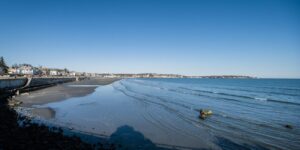 Lynn Itemlive.com article about the water quality at King's Beach Lynn by Alena Kuzub
May 29, 2022